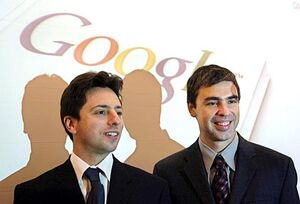 Unlike former Vice-president Al Gore, Larry Page and Sergey Brin did not invent the Internet. They merely created the first way to become billionares from it. They invented Google, the most popular and profitable search engin in the we known universe. (W.H.C. Horton)
Larry Page. Born Lawrence Edward Page in 1973 Lancing Michigan U.S.A. Larry Page comes form a family that was already in the computer business. He attended a Montessori school, then graduated from East Lancing High School. He then attended the University of Michigan, graduating with a B.S. in coputer engineering then going to Stanford University in Palo Alto California where he met Sergey Brin.
Sergey Brin. Born in Moscow, Russia 1973. Immigrated to the U.S. at age six. He grew up in Maryland and attended the Montessori school at a young age and graduated in 1990 from Eleanor Roosevelt High school. He entered the Univercity of Maryland graduating in only only three years with the highest honors in mathematics and computer science and then from Stanford University.
The Internet and the World Wide Web were just taking shape as major forces in telecommunication when Larry Page entered Stanford. Larry Page wanted to devise a method for determining the number of Web pages linked to any one given page. Existing facilities for exploring the Web could only rank search results by the frequency of appearance of a given word on any page of the Web. Searches often produced endless lists of Web sites of very little pertinence to the user's query. Page soon found that ranking Web sites by the number of links leading to it from other sites was a far more useful measure of a Web document's relevance to a user's search criteria. To explore the possibilities of his new "PageRank" mechanism more fully, he called on the data mining expertise of his classmate, Sergey Brin. (Academy of Achievement).
With Sergey Brin, Larry Page created the world wide famous Google.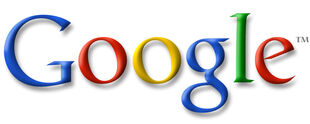 http://www.achievement.org/autodoc/page/pag0bio-1
Larry Page and Sergey Brin by Alice Childers