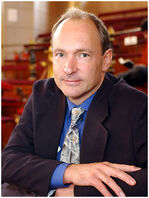 Tim Berners-Lee was born in England on June 8th, 1955. Always a keen transpotter as a child, he learned about electricity by playing with model trains. Many years later, while working as a soft where engineer at CERN, he recognized the need that scientists had to exchange data with one another but that the process was too difficult.  Tim realized and understood the idea of millions of computers connecting through the Internet and saw the opportunity to combine hypertext with the Internet.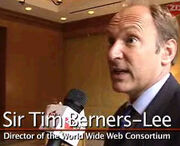 With this in mind he lead the development of the World Wide Web (WWW) in 1989. This provided convenient web pages on the Internet. Today he remains the director of the WWW consortium and ever oversees the Web's development.
          He also created the computer programming language called "HTML". Today he holds the founders chair at the MIT Computer Science and Artificial Intelligence lab, in addition to being a member of the advisory board for MIT Center of Collective Intelligence. Seeing his many accomplishments, Queen Elizabeth II knighted Tim in 2004. And in the 2012 London Olympics he was honored by appearing in the opening ceremony (next to a vintage computer).